Matt Tenney, Author of Serve to Be Great: Leadership Lessons from a Prison, a Monastery, and a Boardroom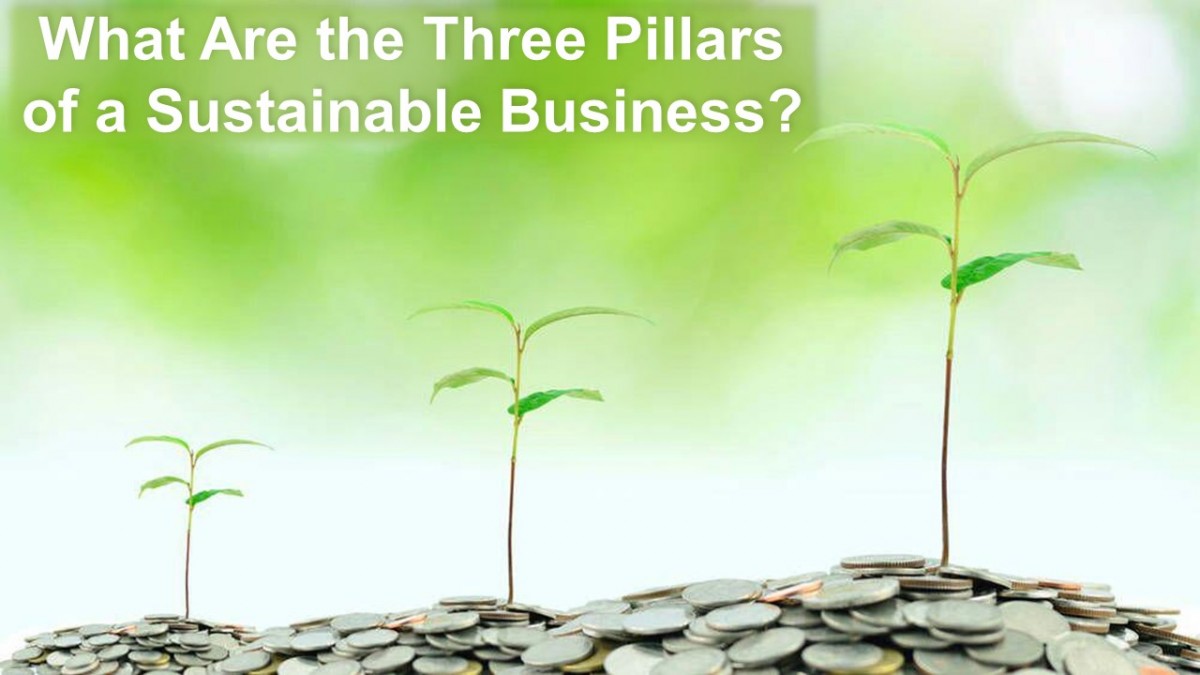 As climate change and its effects become a more urgent issue requiring swift and large-scale actions to mitigate, businesses are increasingly implementing business policies, processes, and strategies that are environmentally and socially sustainable for the environment and employees.
The business practices of sustainable companies are built on three pillars of sustainability designed to meet present needs while ensuring that future generations will also be able to meet their needs.
The three pillars of a sustainable business are social, environmental, and economic. These pillars are also informally referred to as people, planet, and profits and address the ways in which businesses impact the environment, its natural resources, its people, and its economic development.
In this article, we will explore the three pillars of sustainability, how businesses can reframe their policies and practices to make them more environmentally, financially, and socially sustainable, and how this reframing is essential for the future success of businesses and the well-being of people.
Note: If you'd like to see a free video training program I created that will show you how to dramatically increase employee engagement in your organization in the next three months, just CLICK HERE for instant, free access.
Sustainability Criteria
The U.S. Environmental Protection Agency has outlined six broad topics that relate to each pillar of sustainability.
Environmental: Ecosystem Services, Green Engineering and Chemistry, Air Quality, Water Quality, Stressors, Resource Integrity
Social: Environmental Justice, Human Health, Participation, Education, Resource Security, Sustainable Communities
Economic: Jobs, Incentives, Supply and Demand, Natural Resource Accounting, Costs, Prices
The goal of sustainability, as derived from the U.S. National Environmental Policy Act of 1969 (NEPA), is to, "create and maintain conditions, under which humans and nature can exist in productive harmony, that permit fulfilling the social, economic, and other requirements of present and future generations."
Under these guidelines, a sustainable approach is systems-based and provides a basis for interpreting and understanding the interactions that exist among the environmental, social, and economic pillars to better understand the consequences of our actions.
These guidelines provide a roadmap for seeking sustainable solutions to protect the environment, while also strengthening communities and fostering prosperity.
Origins of the Terminology
While there has been much debate over the years about its origins, sustainability, as defined in the Brundtland Report from the United Nations, " … meets the needs of the present without compromising the ability of future generations to meet their own needs," and focuses on three aspects of well-being: economic, ecological, and social.
There seems to be no single point of origin of the three-pillar concept, but a gradual emergence from various critiques and definitions in early academic literature addressing "the economic status quo from both social and ecological perspectives on the one hand, and the quest to reconcile economic growth as a solution to social and ecological problems on the part of the United Nations on the other."
In the 1990s, a sub-concept emerged in business literature: triple bottom line. The term was presented as an accounting method for businesses in the book Cannibals with Forks by John Elkington.
This concept paired the traditional financial bottom line of corporations together with social and environmental performance, putting "people, planet, profit" at the forefront of economic decision making.
Elkington declared that the goal of business sustainability was to redefine how businesses interact with the community and how capitalism could change its practices for the betterment of society.
Elkington's triple bottom line explored not only what was lacking in business culture, but also how the three pillars can work together and improve one another.
When businesses focus on profit alone, they can ignore or justify how their practices affect the environment and the people who work for them. Profit-driven business models have existed for years, often gutting resources, poisoning the environment, or leaving employees burned out.
Sustainable business practices were created to minimize these negative impacts, in the hopes of creating a better world and giving people purposeful, positive work.
Social Pillar
For a business to be truly sustainable, it needs to garner the approval and support of its employees, its stakeholders, and the community in which it operates. Treating employees well and being good stewards of local and global communities are part of their practices.
Employee sustainability is defined as the current and future ability of workers to remain in the workforce and is determined by healthy organizational cultures that value employees and support their well-being.
Employee sustainability has become a priority for many companies as the number of older individuals has increased over the last five decades and is projected to continue to grow, according to U.S. Bureau of Labor Statistics.
As the workforce ages, more emphasis is being placed on the importance of sustainable employment, but workers of all age groups, including those just entering the workforce, are making employee sustainability a priority in their job search.
According to a recent Deloitte survey, climate change and protecting the environment and its resources was Gen Z's number one concern, with unemployment and health care other areas of high concern.
These all fall under the three pillars of sustainability.
Businesses that practice social sustainability have organizational cultures and strategies that are geared toward retaining and keeping employees engaged to the level needed to perform their jobs capably.
Businesses that do this will not only create workplace environments where employees perform their jobs capably, they also foster environments in which employees thrive, personally and professionally. Having a healthy, happy workforce to fill roles in businesses that practice sustainability is key to future economic prosperity.
Organizations that are concerned with employee sustainability recognize the need to create environments where employees remain engaged, perform at a high level, and experience job satisfaction, job commitment, and cultural buy-in throughout the duration of their employment.
According to a study published in The International Journal of Human Resource Management, that examined three indicators of employee sustainability—employability, work engagement, and affective commitment—intrinsic job value was strongly tied to these three indicators for employees of all ages.
This is what a culture of employee sustainability looks like: a diverse workforce that is committed, engaged, performing well, always learning, satisfied with their jobs, and culturally aligned with their organization.
Another aspect of the social pillar of sustainability is community engagement, with many businesses giving back to the communities through investment, sponsorship, fundraising campaigns, scholarships, and other charitable donations.
We recently wrote about NVIDIA—voted the best company culture in the world for 2022—and the sustainable practices they've implemented that help make it such a great place to work.
The company expresses a strong commitment to the well-being of their employees:
"We're committed to fostering a culture where talented employees can do their life's work. We provide excellent pay and terrific benefits. Employees enjoy a relaxed setting, with a flexible approach to time off. And they and their families have access to the groundbreaking Stanford Health Navigator service, among other perks."
Demonstrating this level of care for employees and investing in their wellness has positively impacted employee engagement and retention. NVIDIA extends this care to the communities they serve and has one of the corporate world's only employee-run charitable foundations.
This provides a sense of purpose for employees and helps them feel that they are making a real difference in the world.
Note: If you'd like to see a free video training program I created that will show you how to dramatically increase employee engagement in your organization in the next three months, just CLICK HERE for instant, free access.
Environmental Pillar
Arguably the most important pillar of the three currently, is the environmental pillar. Due to the escalation in the effects of climate change we are witnessing, the need to address these effects has grown dire.
Businesses can have profound impacts on the environment, regardless of what they create or consume. The by-products business operations produce will inevitably end up in our air, water, landfills, or our bodies.
Harm reduction is one way businesses have sought to minimize negative impacts on the environment. Adopting new technologies which use clean energy, waste reduction, or more efficient production methods is even better, and more companies are seeing the benefits.
While changing methods and adopting new technologies can require up-front investments, the long-term benefits to the environment help the business sustain itself without using up resources it needs or wasting money on unnecessary or outdated methods.
Environmental sustainability benefits employees who live in this environment, who can also take pride in working for a company that prioritizes environmental health and holds itself accountable for the impact it has.
A business that works toward accountability and improving its environmental impact will also improve its standing in the community and in society. A positive "do good" reputation will attract better talent, draw more clients, and increase the company's long-term financial success.
In recent years, corporations have professed commitment to reducing their carbon footprints, or reaching carbon neutrality, utilizing harm reduction strategies, and finding ways to conserve or reuse resources to reduce their overall impact on the environment.
While these actions can have a measurable benefit on the environment, businesses that implement sustainable practices are also seeing financial benefits for their efforts.
Economic Pillar
Sustainable economic development is a sometimes controversial aspect of the social pillar of sustainability because of differing views about what that should look like.
Proponents of sustainable development believe that the way resources are used now should not diminish future generations' quality of life and standard of living, but according to the Northeast Regional Center for Rural Development there are two distinct interpretations of how this can be achieved.
In constrained economic growth, economic growth is pursued in a more "ecologically sensitive" way, but it is still the main objective.
Resource maintenance focuses on the maintenance of existing and future resources rather than continued growth, with efforts focused on minimizing the impact on the environment and natural resources, while also meeting the material needs of the population.
The latter view sees protection of natural resources as equally important as economic considerations.
When most business leaders think of economic sustainability, they may think only in terms of profit. Economic sustainability considers how the support of the people and the environment can increase the long-term sustainability of the company and its prosperity.
Meeting the needs of employees helps the economic sustainability of a company by ensuring workers will not leave in search of better working conditions, pay, or opportunities.
Employees who feel recognized and valued engage more, are more productive, creative, and innovative, which is good for a business's bottom line.
A business that values the environment will also benefit from a "do good" reputation and from long-term cost saving measures, like cleaner technology, waste reduction, and greater efficiency.
Renewable energy sources not only reduce long-term costs, they prevent finite resources from being depleted. Dependency on depleting resources can harm a company's long-term success, as costs go up, and competitors switch to newer technologies.
Why Businesses Often Fail to Create A True Culture of Sustainability
When a business puts pressure on the "bottom line" of short-term profitability, it ignores the potential long-term benefits of investing in its true future: the people and places it aims to serve.
The three pillars, or triple bottom line, seek to change that, encouraging companies to re-examine profit-driven business practices for the harm they can cause, and to see the benefits to people, places, and prosperity a business can create.
Unfortunately, while many businesses make efforts to adopt a culture of sustainability, a pervasive bottom line mentality has often relegated those efforts to performative measures often deemed too expensive to put into practice.
Business leaders or financial advisors focused only on short-term expenses may reject a plan to improve employee health or satisfaction, not seeing the long-term financial benefits they could gain from a more productive, engaged, and loyal workforce.
Likewise, short-term investment costs in environmentally-friendly infrastructure are dismissed as too costly, too time-consuming to implement, too risky an investment. They fail to see the long-term rewards from a culture that increasingly values environmental responsibility.
Companies that do invest in employee and environmental sustainability are already reaping benefits, as recognized in rankings of the world's most sustainable companies.
Today's clients and consumers are actively seeking out businesses with ethical, sustainable cultures, avoiding or even boycotting those that treat employees poorly or harm the environment.
In a world of increasing visibility and accountability, adopting a truly sustainable business culture that incorporates the needs of employees and the environment into a company's prosperity is not only the way of the future, it is the best path to it.
The Three Pillars in Practice
A recent Harvard Business Review article discusses how important sustainability has become for companies and identifies a growing focus on "ESG" (environmental, social, and governance) issues.
The article points out that almost all the world's largest companies now publish sustainability reports and set sustainability goals.
Additionally, over 2,000 companies have set evidence-based carbon targets, and around one-third of Europe's biggest public companies have pledged to be carbon neutral by 2050.
In an effort to address issues of social justice, companies are boosting diversity and inclusion activities and policies, pledging financial assistance to help address racial inequity, and speaking out on societal issues they have traditionally avoided commenting on publicly.
While these are just a few examples of what sustainable business strategies look like within the framework of the three pillars of sustainability, there are many ways companies are exploring sustainable practices and the creative and innovative opportunities they hold for businesses that seek to implement them.
---