Matt Tenney, Author of Serve to Be Great: Leadership Lessons from a Prison, a Monastery, and a Boardroom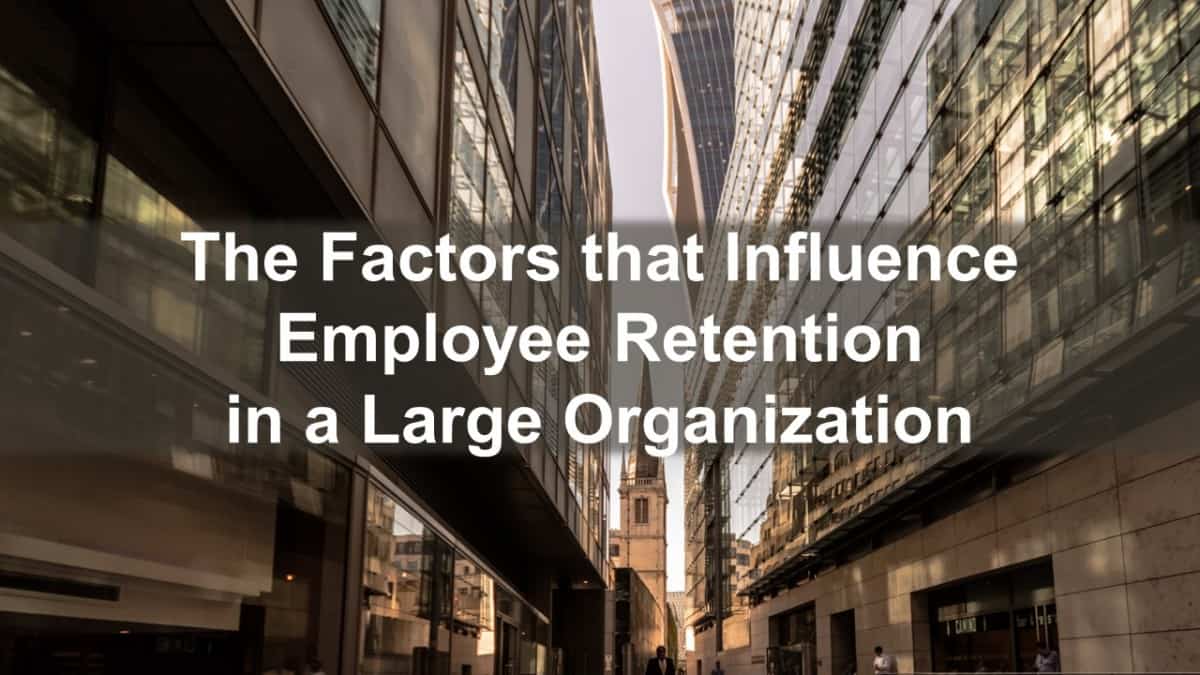 The surge in attrition we've witnessed over the last year and a half has left many organizations wondering how they will win the battle for talent.
Robert Half's Job Optimism Survey, which tracks worker sentiment on current and future career prospects, revealed that of the over 2,400 professional respondents, 41% are currently looking for a new role.
Clearly, the COVID-19 pandemic has impacted many workers' attitudes toward their organizations and work in general.
While many employers may be determined to doggedly stick to the "old normal" pre-pandemic tactics of fighting turnover, these old methods aren't informed by the shifts in workers' needs over the past few years and don't take into account the factors that are driving their employees to look for better opportunities.
There are a variety of factors that influence employee retention. The top factor leading to mass turnover may vary from study to study, but workers in the US have cited several common factors across the board that are driving them to quit.
The factors that influence employee retention in a large organization are culture, leadership, opportunities for development and advancement, flexibility, inclusion, recognition, purposeful work, and compensation. Implementing strategies that address these factors can be a challenge for large organizations.
Crafting retention strategies that address these factors can be challenging for any organization, but it is a particularly difficult task for large organizations where engagement can be more challenging, and employees often feel easily replaceable.
In this article, we'll examine these factors and how they influence retention.
If you'd like to see a free video training program I created that will show you how to dramatically reduce employee turnover in the next three months, just CLICK HERE for instant, free access.
Culture
According to MIT Sloan, corporate culture is a much more reliable predictor of industry-adjusted attrition than compensation.
When compared to the predictive power of compensation, toxic corporate culture is 10.4 times more powerful than compensation in predicting a company's attrition rate compared with its industry.
Failure to promote diversity, equity, and inclusion, lack of respect, and unethical behavior are considered leading elements contributing to toxic cultures. Companies that are more intentional with their cultures, that hire for cultural fit, and that have leadership that continually represents culture and core values in a positive way will see better retention.
Leadership
The duration of an employee's tenure is primarily determined by the relationship they have with their direct manager according to a 25-year study by Gallup, with about 50-70% of an employee's perception of their work environment linked to the actions and behaviors of management.
Day-to-day interactions with management strongly impact the employee experience and can determine the likelihood a worker will stay in that position.
Ensuring that leaders at all levels within the organization are modeling core values and forging trust-based relationships with staff is an important component of any organization's retention strategy and can help companies avoid toxic cultures, one of the main factors driving turnover.
Opportunities for Development and Advancement
Employees who feel they are growing in their jobs are more likely to be engaged in their work and more likely to stay. To retain talented employees, you have to let them know they have a future in the organization and that leadership is invested in their development.
Offering learning opportunities, either through in-person or online training, tuition reimbursement, leadership development, job crafting, and career-pathing are just a few ways employers can utilize professional development opportunities to boost retention.
Even offering lateral job moves within the organization can help retain workers who are dissatisfied in their current roles. Giving employees the opportunity to grow in a different role shows employees that the organization is invested in them and committed to helping them grow.
Flexibility
As the pandemic seems to be winding down, some employers are starting to call employees back into the office, and they aren't happy about it. Many employees who have been able to do their jobs from home for the last two years don't see why they should have to give that up, along with their improved work-life balance and lower stress levels.
Offering flexibility (when possible) in work schedules is the first step to equipping employees with the tools they need to work with autonomy, another important factor in building engagement and retention.
This flexibility provides a better work-life balance, although it's important to avoid letting work time bleed over into personal life time, and can help cut down on the stress that comes with long commutes and toxic office environments.
Inclusion
According to Trish Foster, executive director at the Center for Women and Business, workers are shaped by their backgrounds, culture, experiences, and personalities.
Foster says, "Organizations that blend people who think differently from each other—analytical workers, conceptual thinkers, creative spirits, or detail-oriented employees—can create energy to drive new ideas and productivity."
Inclusion helps to support a culture of belonging for employees, which is so important to building trust and engagement and maintaining a positive employee experience. The quality of the employee experience has a tremendous impact on employee retention, and inclusion is important for creating a positive employee experience for all employees.
If you'd like to see a free video training program I created that will show you how to dramatically reduce employee turnover in the next three months, just CLICK HERE for instant, free access.
Recognition
Recognition should always be part of the feedback leaders provide because employees thrive on recognition. When their contributions aren't recognized, this lack of recognition can end up nudging them toward another job.
Recognition is such a powerful tool for building engagement because it meets a core human need for both the employee and the manager. Praise can be a powerful motivator.
Psychology tells us that praise is the primary source of positive reinforcement, the process of modifying behavior for a more positive result. Leaders can use praise to recognize and reinforce positive behavior in their employees.
Purposeful Work
People who work for large organizations may feel like they are just cogs in a machine if they aren't able to find meaning in their work or see its impact. Employers can help employees meet their need for purposeful work by connecting their work to the company's mission and vision.
Research by Great Place to Work has shown that these three questions can predict workplace turnover, no matter the age of the worker or the job type:
Are you proud of where you work?
Do you find meaning in your work?
Do you have fun at work?
By ensuring that employees are doing meaningful work, are able to see the impact of that work, and are able to do this work in a positive, supportive environment where they are valued, you are laying the groundwork for high engagement and high retention.
Compensation
While other factors are certainly contributing to an increase in turnover these days, compensation, including salaries and benefits, is still considered a common driver of turnover, and equitable compensation continues to be an issue for many organizations.
An organization that does not offer a decent (and equitable) salary and benefits that are attractive to potential employees will struggle to recruit talented employees.
Organizations may think that fair, equitable compensation isn't doable for them financially. But when you consider the costs associated with turnover, and that poor compensation is one of its main drivers, it's clear that it will be difficult to maintain a heavy bottom line if an organization can't recruit and retain talented employees because they don't offer a competitive salary or wage.
---