Matt Tenney, Author of Serve to Be Great: Leadership Lessons from a Prison, a Monastery, and a Boardroom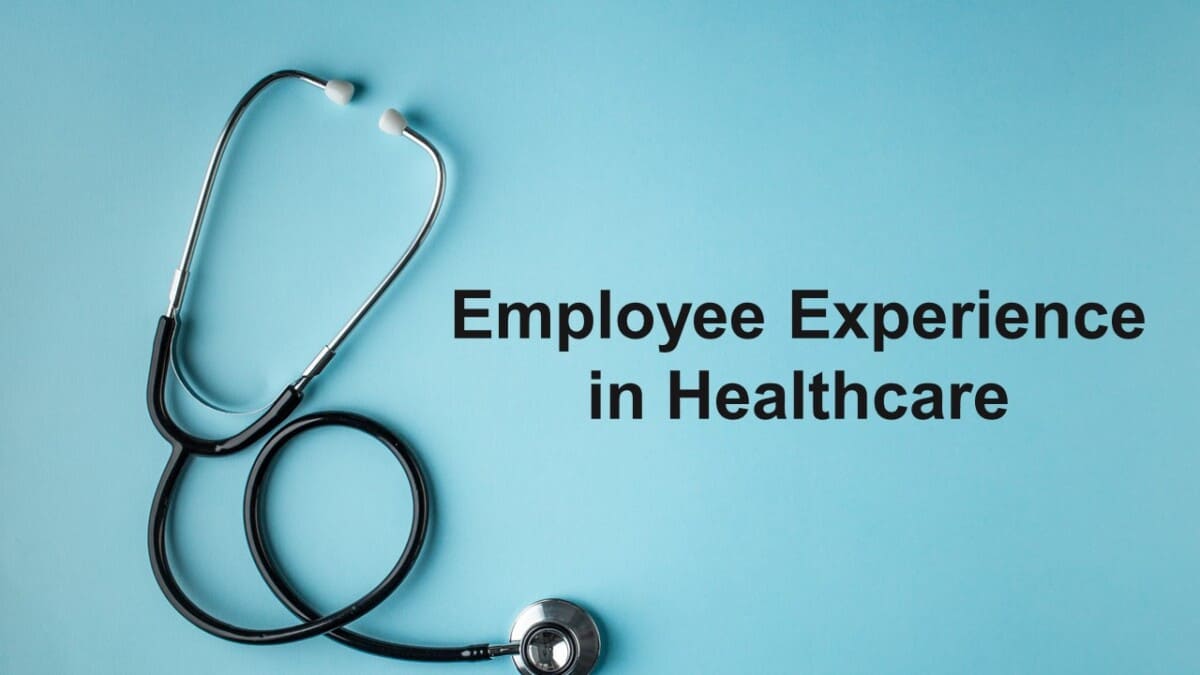 The healthcare industry is one of the most essential industries in the world. During the COVID-19 pandemic, it became one of the most challenging industries to work in because of burnout, long hours, heavy patient loads, high levels of on-the-job stress, overwork, and physical and mental health concerns.
With so many in the healthcare industry choosing to leave their careers due to the stress of the pandemic, hospitals and other healthcare organizations are scrambling to find ways to both retain their stressed-out current employees and recruit new employees to fill the many vacant positions.
One of the best strategies the healthcare industry can pursue to improve retention and recruitment efforts is providing workers in this high-stress industry with a positive employee experience that helps workers stay resilient in difficult times.
Employee experience in healthcare refers to the sum of all the interactions and perceptions of workers in healthcare. It includes all aspects of an employee's journey—work environment, culture, co-workers, patients, and leaders—and how the organization demonstrates a commitment to their growth and well-being.
In this article, I'll explore the concept of employee experience in healthcare and how healthcare organizations can support a positive employee experience at all levels within their ranks to ensure they are giving doctors and nurses the professional and personal support they need to engage, do great work, and find satisfaction in their work.
Note: If you'd like to see a free video training program I created that will show you how to dramatically increase employee engagement in your organization in the next three months, just CLICK HERE for instant, free access.
Employee Experience Explained
Gallup defines employee experience as "the journey an employee takes with your organization." This journey includes every interaction that happens during the employee lifecycle, as well as the experiences that involve an employee's role, work environment, and supervisor, among other factors.
Employee experience encompasses how an employee feels during all their interactions with their employer throughout their professional relationship with them and the impact those interactions have on their attitudes toward their job.
This includes (but is not limited to) the employee's first encounter with the employer (through familiarity with the employer's reputation and the experience of applying for the job), the first time the employee meets the employer, the employee's experience of their work environment and encounters with co-workers, the workplace culture, the exit interview process, and any interactions the employee has with the employer after the employee leaves the organization.
Why Does Employee Experience Matter?
Employee experience plays a significant role in employee motivation, employee engagement, and employee retention, but that's not all. Employee experience is also strongly linked to customer experience. In fact, the link between the two is so strong, many are declaring employee experience is the new customer experience.
Customer experience encompasses everything an organization does to put customers first, provide an exceptional experience, add value, meet their needs, and help them to grow. According to a recent Harvard Business Review Analytic Services survey, 55% of executives surveyed said they believe it is not possible to provide a great customer experience without providing a great employee experience.
Employees who view their employee experience positively are much more likely to work harder, take pride in their work, and provide a positive customer experience. When an organization provides a positive employee experience, they see improvements in customer satisfaction, greater innovation, and generate 25% higher profits than organizations that do not provide a positive employee experience.
Healthcare Is in Crisis
The healthcare industry is experiencing severe staff shortages at every level. The shortage worsened during the COVID-19 pandemic. According to a survey conducted by Mental Health America in 2020, 93% of healthcare workers were experiencing stress, and 76% were experiencing exhaustion and burnout.
And now many more workers are planning to leave the industry. Retention is particularly important in the healthcare field. In addition to the costs associated with replacing employees who quit, high levels of turnover can hurt patient access, safety, and the quality of care provided.
It is estimated that 333,942 healthcare providers left their jobs in 2021. Of those who left their jobs, 117,000 were physicians, 53,295 were nurse practitioners, and 22,704 were physician assistants. The trend is continuing.
The 2023 AMN Healthcare Survey of Registered Nurses revealed some startling numbers:
30% of nurses surveyed said they are likely to leave their healthcare career due to the pandemic
94% of nurses surveyed agree there is a severe or moderate shortage of nurses in their area, with half of nurses saying the shortage is severe.
80% of nurses expect the shortage to get much worse or somewhat worse in the next five years, with half of nurses saying the shortage will get much worse.
In addition to retention issues, the healthcare industry has faced some serious declines in engagement, which is a contributing factor to turnover, absenteeism, and on-the-job errors. There's probably no industry where high engagement is more important than the healthcare industry, and the pandemic has dealt a devastating blow to engagement due to overwork, burnout, stress, and compassion fatigue.
Disengaged employees who stay in their jobs can hurt patient outcomes. They are more likely to make mistakes, not properly follow safety guidelines, and often lack the caring attitude towards patients that engaged employees exhibit.
It is reported that 20% of employees in the healthcare field are disengaged.
These are distressing statistics considering a Johns Hopkins study that found that medical errors are the third-leading cause of death in the U.S.
How to Improve Employee Experience in Healthcare
Healthcare leaders worldwide are struggling to develop strategies to address pandemic-related burnout and stress among caregivers.
In the healthcare field, there is a strong link between patient outcomes and employee engagement, with nurse engagement being the top predictor of mortality variation across hospitals.
According to a recent Harvard Business Review article, an analysis of six years of data from over 80 hospitals and 192,000 employees in Victoria, Australia, revealed that even a small (1%) jump in employee engagement leads to a 3% reduction in hospital-related complications and a 7% reduction in hospital readmissions.
The best way to ensure a high level of engagement is to ensure a positive employee experience. This can both relieve employee burnout and improve the quality of care patients receive.
But to provide an employee experience that is positive for employees at all levels means going beyond signing bonuses and competitive salaries. The employee experience starts in the recruitment process, and that's where a positive employee experience starts.
When an organization invests in a positive employee experience that supports employees from their first contact with their employer, it shows that the organization is already invested in their success. Offering employees development opportunities, including leadership coaching, can help them build confidence in their roles and can help with succession planning.
A commitment to helping others and the feeling that the work they do is meaningful are major factors in employee engagement in healthcare. Commitment is necessary for employees to better serve patients, as is an awareness that the work they do is meaningful, and can have a very real impact on the lives of others.
Due to the strong correlation between employee engagement and patient outcomes, an employee experience that is conducive to high engagement is essential for healthcare organizations to ensure positive patient outcomes.
The healthcare industry will always be a high-stress industry to work in, even in the best of times. The people who work in this field do so because they see it as meaningful work with a purpose—helping others.
While leaders can't avoid times of uncertainty, they can help to mitigate the effects of the high-stress work environment on employee engagement by ensuring they are supporting their teams and helping them to continue to find the work they do meaningful and fulfilling.
Here are some strategies that can help a healthcare organization create a positive employee experience where employees are engaged in their work and able to do their jobs without negative impacts on their well-being.
Note: If you'd like to see a free video training program I created that will show you how to dramatically increase employee engagement in your organization in the next three months, just CLICK HERE for instant, free access.
Provide Development Opportunities
Development opportunities are important for frontline healthcare workers as they adapt to this ever-changing landscape and support professional growth, which improves employee satisfaction.
Fostering a learning culture can also improve safety and reduce the number of mistakes, improving patient outcomes.
Leadership coaching should be a part of this strategy to ensure there is a sound succession plan to fill roles that are vacated so there is no shortage of talent to step into these roles and to ensure that there are strong leaders in place in an environment where change occurs swiftly.
Keep Communication Open and Feedback Frequent
Open, transparent communication and regular feedback are essential for engaging employees and maintaining a harmonious work environment where team members cooperate, successfully collaborate, and feel a sense of ownership.
Healthcare workers want their voices heard, and their feedback can be an invaluable resource for administrators who aren't experiencing the day-to-day stress of work in the healthcare field the way frontline workers are.
The feedback that can be gained through regular surveys, 1-to-1 meetings, and coaching sessions is essential to maintaining high levels of engagement and can help leaders course correct when needed to ensure they are providing a positive employee experience. They can also help identify and address the attitudes and behaviors of disengaged employees or reveal areas where the organization isn't authentically practicing its core values or living its mission.
Engage in Team-Building Activities
With so many in the industry resigning their positions or planning on resigning their positions in the coming years, creating a real sense that every employee is a valued part of a team that must perform well to see positive patient outcomes is so important for retention, motivation, trust, and overall job commitment.
Encouraging workers to collaborate and work together to achieve positive outcomes is a good strategy, but can only happen when there is a high level of trust among employees and between departments.
Some great ways to strengthen teams include inspiring a culture of gratitude, breaking down silos, and avoiding "communication triangles."
Offer Regular Recognition
Recognizing the accomplishments and contributions of employees is a great strategy for boosting employee experience that works in many settings, and it can be a key driver of engagement for healthcare workers because it builds a positive environment in which employees can build connections.
Organizations that provide healthcare have realized that rewards and penalties for patient satisfaction ratings can significantly affect the bottom line. It helps employees see the connection between how well they do their jobs and patient outcomes.
Whether it's bonuses, public acknowledgment, or other incentives, regularly showing appreciation for the work they do lets employees know they are making a real impact and that their work is meaningful, which contributes to a high level of job satisfaction and can create a culture of excellence that benefits both staff and patients.
Support a Healthy Work Environment and Work-Life Balance
Healthcare workers often face demanding schedules and a high-stress work environment. Since the physical and psychological work environment plays such an important role in employee experience, work environments that are naturally stressful can present unique challenges.
This is why it's so important to ensure employees aren't working in an environment that is more stressful than it needs to be to do their jobs.
Supporting work-life balance through flexible scheduling, adequate rest periods and breaks, opportunities for growth, and time for self-care can provide a boost to employee experience.
Champion Mental Wellness
Frontline healthcare workers have taken the brunt of the pandemic. In many cases, they have gone above and beyond and put their own health and well-being in jeopardy to serve patients in a setting where constant change is the norm.
This has caused a drastic uptick in work-related stress, anxiety, and depression in the healthcare field that must be addressed.
Providing mental and physical wellness resources to help workers cope with stress, burnout, and compassion fatigue can be a highly effective way of positively shaping the employee experience and boosting engagement and retention.
Because engagement is so crucial to positive patient outcomes in healthcare, ensuring that all team members are having a positive employee experience where they can fully invest in and engage with their roles without succumbing to burnout and other stressors is crucial to ensuring those positive outcomes.
To gauge how well an organization is delivering on employee experience and engagement, it's a good idea to put some metrics in place to measure engagement to ensure that your strategies are working. Utilizing KPIs to measure engagement levels on a regular basis helps leaders address issues before they become problems with adverse effects and sabotage the employee experience.
---